​​SQL ACCESS TO JIRA DATA
Easily retrieve and analyse project information
Sign up for our Early Adopters program and we will provide you with direct access to your data from any BI or data access tool using the SQL dialect.
Project and portfolio tracking
Managing a single project or a complete portfolio ? Don't worry, you can find everything in a single place and measure across all projects seamlessly.
Project planning
Some see project planning has an art more than a science but none disagrees that planning based on relevant historical data is a good way to start. With access to your portfolio historical metrics you can start planning with confidence.
SCRUM measures and tracking
You use the SCRUM framework and track estimates, value points, work remaining, value delivered, ... Data integration coupled with insightful kpis will help you communicate progress and performance to your teams.
Financials
You are running a professional services firm and need to be on top of your financial performance. We have everything covered from revenue, cost, margin, profitability, etc... You manage internal projects and have to monitor costs across projects and departments, don't worry we have you covered too.
Time management
If you capture timesheets we will provide you with detailed timeline analysis of all project data from task and project history to resource workload and performance. Historical timesheet data can provide invaluable insights for project planning and team scheduling.
Resource utilization
Wondering how you can optimize your team workload or who is available for more work ? Want to optimize your billings on customer projects ? Detailed information on resource utilization will give you the answers you need.
Predefined and standardized metrics
An extensive library of curated KPIs is readily available and easily accessible. This library is constantly revised and added. Just let us know what you need and we'll make sure you can find it in our library. Consider us your own team of data scientist. 😉
AD HOC reporting
You are facing new challenges... New questions are popping up... Don't worry you can always access your projects data and face the music with facts and confidence.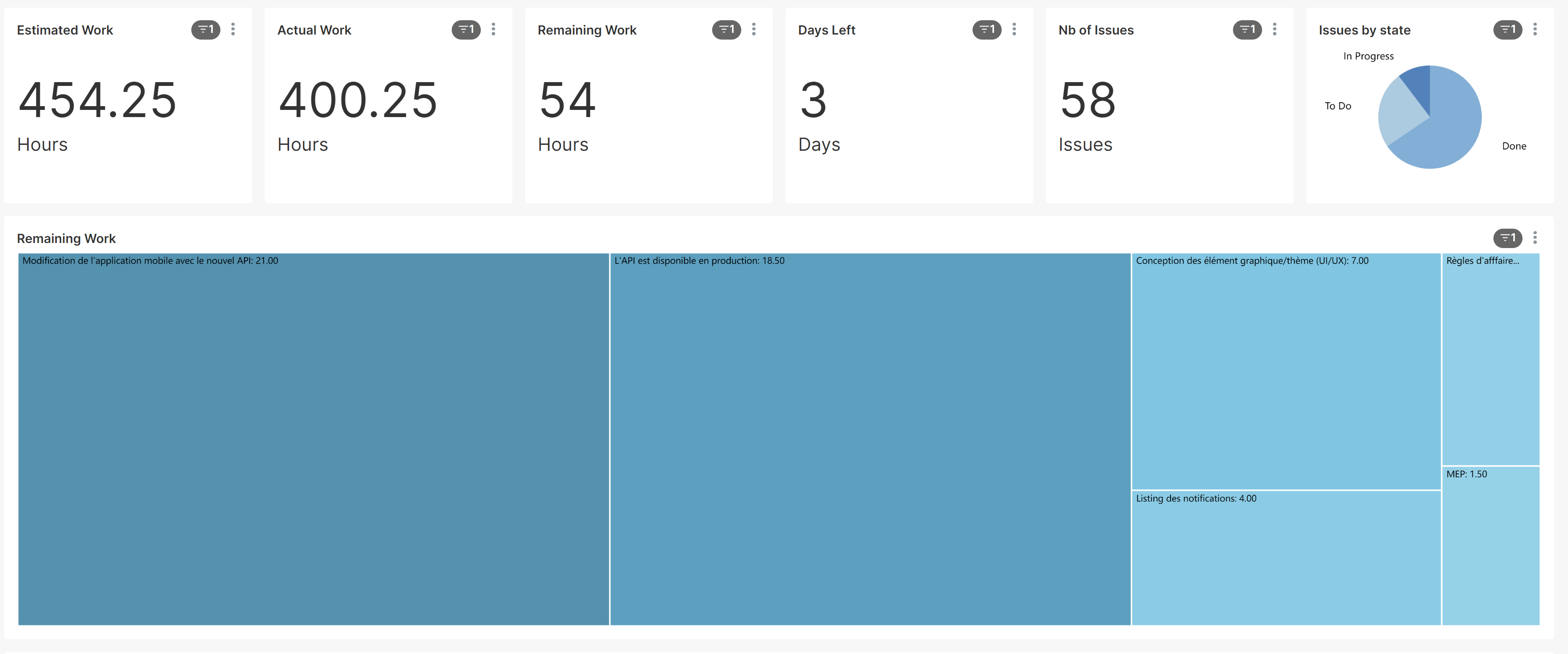 Tickets dashboard example
This is en example of what you can do with the data that is accessible with your preferred tooling.
How do I access my data ?

You can access your data via standard SQL using any tool that support Microsoft SQL Server. This can be as simple as setting a data connection in Microsoft Excel or configuring your preferred Business Intelligence tool like Microsoft Power BI, Tableau, Business Objects, Looker, ...

You can also use any ETL tool to access your data and integrate it in your local datawarehouse.
Where will my data be stored ?

Your data will be stored in a Microsoft Azure SQL database and accessible via the standard Microsoft SQL dialect.
How often will my data be refreshed ?

We will refresh your data every 15 minutes.
How do you access my Jira data ?

Using the Jira API, we will access and extract your project data to populate our specialized datawarehouse. In the process, your data will be consolidated and integrated in a STAR SCHEMA so it can be easily accessed.

In order to do this, we will need an API token giving us access to your Jira Account. You will find more information on this here.
We are a team of entrepreneurs from Montréal, Québec that have built and managed professional services firms in the data warehousing and business intelligence sector for the last 20 years. We aim at supporting project managers and entrepreneurs in their journey to success via data driven decisions. Our tool provides easy access to consolidated and integrated project data and enables fact-based decisions making.
You can get in touch at any time at

info@axoboard.com

...
Subscribe to our newsletter